This is an archived article and the information in the article may be outdated. Please look at the time stamp on the story to see when it was last updated.
Negotiators seeking to end the five decades old bloody insurgency in Colombia, one of the world's longest-running conflicts, said Wednesday in Havana that they had reached a final peace deal.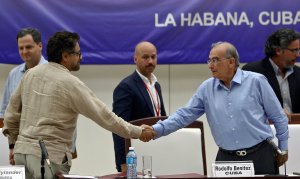 For nearly four years, representatives from the Colombian government and FARC rebel group have struggled to reach a deal that would not only end the fighting but also address issues of land reform, repatriation for the families of victims and trying those suspected of human rights abuses.
The landmark deal will still need to be approved by a majority of Colombians in a countrywide referendum expected to take place in the next few months.
Inspired by the Cuban revolution, the Marxist guerrilla force FARC, the Spanish acronym for the Revolutionary Armed Forces of Colombia, had originally sought to redistribute wealth at the point of a gun in the South American country.
But in recent years critics allege the FARC's estimated 7,000 soldiers had become a narco-terrorist force, reaping millions of dollars from cocaine shipments to the United States.
Hundreds of thousands of Colombians were killed, disappeared or displaced during the decades of fighting.
Under the agreement, FARC rank and file soldiers will lay down their heavy weapons, leave their jungle camps and slowly reincorporate to Colombian society, with the help of government training programs.
The leaders of the FARC has said they intend to start a political party to attempt to win seats in Colombia's Congress.