This is an archived article and the information in the article may be outdated. Please look at the time stamp on the story to see when it was last updated.
A convenience store clerk in Colorado took hold of a baby just moments before the child's mother collapsed from a seizure, recently released surveillance video showed.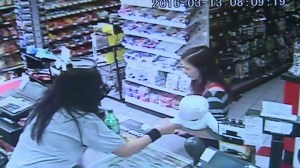 The incident took place on Sunday when a woman carrying a baby walked into the Alta Convenience store in Arvada, local television station KDVR reported.
The video showed the mother picking up a soda and taking it to the checkout counter to purchase.
Cashier Rebecca Montano noticed something different about the woman right away.
"She just kind of had a glazed look on her face and I knew something was wrong," Montano said.
Montano can be seen reaching over the counter to hold the baby's arm as the mother begins to sway in front of her.
"It scared me. It scared me," Montano said.
She then took hold of the baby in one arm and tried to stop the woman from falling with the other.
Unable to hold onto both the mother and the baby, Montano let go of the woman, who collapsed to the floor.
"Every time I watch it it hurts … I wish I could've held on to her longer," Montano said.
Montano called 911 and paramedics arrived to assist the woman, who had had a seizure and was fine following the incident, KDVR reported.
Montano has played down her role in helping to save the baby from falling, but that hasn't stopped customers from calling her a hero.
"It's people like you who make the world right," one customer told her.