This is an archived article and the information in the article may be outdated. Please look at the time stamp on the story to see when it was last updated.
When the child of two Colorado police officers — one current, one former — was born at 29 weeks with a slew of debilitating medical issues, the couple found it hard to provide their son with the round-the-clock care he required.
After weeks in the neonatal intensive care unit, with few answers on their childs' condition, Axel Winch's parents were forced to return to work while their son remained hospitalized, according to TV station KUSA in Denver.
But a team of police officers stepped up to provide constant cuddles to the sick child, working in shifts to ensure he was never alone, the station reported.
Axel was hospitalized on Aug. 1 at Children's Hospital Colorado in Aurora, where he was flown after being born in Grand Junction, and underwent several surgeries and procedures in the months he was hospitalized.
"They let us know he had all sorts of issues genetically, physically to the point where the news was pretty devastating," Adam Winch, Axel's dad, told KUSA. "He was in for probably a lifetime of issues medically. They're still not sure what all of it is."
Winch said although the facility is "world-class," doctors still trying to solve the riddle of Axel's illness. "He's completely a mystery baby to this NICU," he said.
After weeks of close calls and scares, Adam, a former police officer and business owner, and Axel's mom Melissa, a Grand Junction police officer, had to return to work.
"Leaving is heartbreaking," Melissa told the Denver station. "The first time we left, I cried not all the way home, but majority of the way home. It's terrible."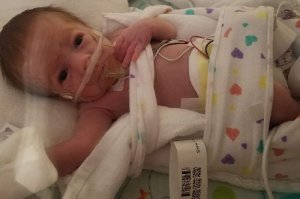 But Sgt. Mike Pitrusu with the Aurora Police Department had heard about the case through a fellow officer and was determined that Axel wouldn't be left alone.
"[I] came up with the idea that we would set up basically a watch, that we would have officers sign up for times to come in here and spend time with Axel," Pitrusu explained.
Almost 20 officers would come in at different times on the days Adam and Melissa were unable to be there, according to Pitrusu.
"Somebody called it the cuddle watch," he said.
For the Aurora officers, being able to spend time cradling the innocent child was almost a form of therapy. "I think it was a win-win for both Axel and the officers that came in here," Pitrusu said.
But for his parents, that's created a new sort of problem.
"They've kind of spoiled our boy now," Melissa said. "He just wants to be held all the time now."
Everyone involved is thankful that Axel has since been able to return home with his mom and dad, although some of the officers will miss their special assignment.
"We almost need to set up a cuddle watch for Children's Hospital, just give the opportunity to come in and take care of the little ones," Pitrusu said.
A GoFundMe campaign has been set up to raise funds for Axel's recovery.