This is an archived article and the information in the article may be outdated. Please look at the time stamp on the story to see when it was last updated.
A father from Middletown, Connecticut, convicted of murdering his 7-month-old baby by throwing him off the Arrigoni Bridge was sentenced on Wednesday.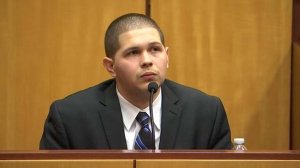 Tony Moreno, 23, was sentenced to serve 70 years in prison, 60 for murder and 10 for risk of injury, according to television station WFSB in Hartford.
At his sentencing, Moreno's mother said he's not the person he's been made out to be.
"This monster he's being portrayed of is not the person I gave birth to or lived," Denise Moreno said.
The sentencing comes three months after Tony Moreno was convicted of the murder.
The incident happened in July 2015.
Prosecutors said Tony Moreno took his baby for a stroll on the southbound side of the Bridge.
Denise Moreno, who testified in court during a previous appearance, said her son called her that night and said he was going to jump.
While on the bridge Tony Moreno told jurors his son, Aaden, slipped out of his hands and fell into the water below.
As Middletown police started to arrive at the scene, Tony Moreno attempted to follow through with his plan to commit suicide and plunged 100 feet into the Connecticut River.
He was not holding Aaden at the time. An empty stroller was located in the immediate vicinity. At the hospital later, Moreno told officers he hurled the baby over the railing before they arrived, according to Middletown Police Lt. Heather Desmond.
Police later recovered Aaden's body in the Connecticut River near the town of East Haddam, miles downstream from where his father leaped, police said.
The jury ultimately found Tony Moreno guilty of murder despite his attorney's attempt to clear his client's name. He maintained that Tony Moreno only intended to harm himself that night.
Court records obtained by the station show that Moreno's relationship with the child's mother had become strained.
Prior to killing his son, Moreno had been accused of threatening the child and the child's mother.
Desmond said officers had applied for an arrest warrant for Moreno stemming from contact he with the child's mother on June 25 — in violation of a restraining order — but the warrant application was sent back to them for revisions.
By the time the warrant was signed, Aaden Moreno was dead, Desmond said.
Documents obtained also showed that a temporary restraining order was applied for on June 17.
In the application for a restraining order, the baby's mother, Adrianne Oyola wrote, "I feel that he is a danger to my child and me. … He wanted to give up all rights to his child. Tells the baby this everyday multiple times a day."
"I'm afraid he's going to do something to my son. He is angry and probably isn't thinking straight. He has told me he could make my son disapear [sic] anytime of the day. He told me how he could make me disapear [sic] told me how he could kill me. I sometimes am scared to sleep. He told me he would put in the ground and put something on me to make me disinigrate [sic] faster."
Less than two weeks later, a judge denied a restraining order application, according to a court form obtained by CNN. No specific reason for the denial was included.