This is an archived article and the information in the article may be outdated. Please look at the time stamp on the story to see when it was last updated.
Investigators ordered a statewide review of Florida's prison records to determine whether anyone has filed forged documents like the ones used in an elaborate escape.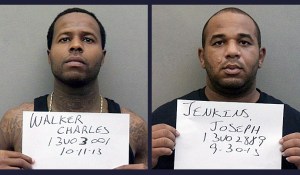 Charles Walker and Joseph Jenkins, both 34, are considered "escapees" by authorities after investigators discovered forged motions to reduce their respective sentences and forged court orders granting the request, according to authorities.
A "vigorous and thorough review" will be conducted of other such prison releases to ensure no others have been freed with falsified documents, Department of Corrections Secretary Michael Crews said Thursday.  Both motions bore the forged signatures of the Orlando-area state attorney or the assistant state attorney, according to a statement released on behalf of Ninth Circuit State Attorney Jeffrey L. Ashton.
The judge's order granting the release of Jenkins and Walker bore the forged signature of Judge Belvin Perry, who gained national attention while presiding over the Casey Anthony trial. Ashton served as the case's chief prosecutor.
Click here to read the full story at cnn.com.