This is an archived article and the information in the article may be outdated. Please look at the time stamp on the story to see when it was last updated.
The whimpers of a 2-year-old girl in Tempe, Arizona, woke her parents who then found her in the arms of a stranger inside their home early Thursday morning.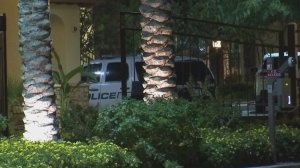 Police were called to an apartment complex southwest of Priest Drive and Warner Road at about 2:30 a.m. A woman told a 911 dispatcher that her husband was fighting with a burglar, television station KPHO reported.
According to Tempe Police Department spokeswoman Sgt. Josie Montenegro, the woman woke up when she heard her young daughter whimpering. When she went to check on the girl, she saw that her bedroom door was closed, which was unusual.
The father went into the living room and saw a man holding his daughter.
Police have identified that man as Oren Cohen, 34.
The father got into a fight with Cohen as the child's mother called 911.
When officers arrived at the complex, they spotted Cohen.
"We were pulling in as the suspect was running away from the apartment," Montenegro said. "He was ultimately tazed before [being] taken into custody."
Officers arrested Cohen on suspicion of burglary and aggravated assault. The couple told police they had never seen Cohen before tonight.
Police said there were no signs that Cohen forced his way into the house.
"We're still going to continue our investigation to figure out what the suspect's intent was," Montenegro said, explaining that Cohen could face additional charges.
Police believe Cohen was drunk when they caught up with him. It's not clear if he has a criminal history.
Investigators are trying to determine not only how Cohen came to be inside the couple's apartment but also why he had the little girl and what transpired between when the girl's father first saw him and when police arrested him.
Montenegro described the Thursday morning's events as "just a total parent's nightmare."
The 2-year-old was not injured. The little girl has a 3-month-old sister who was not involved in this situation.