This is an archived article and the information in the article may be outdated. Please look at the time stamp on the story to see when it was last updated.
A man dressed as a creepy clown and his female accomplice are facing child neglect charges after leaving their 4-year-old at home while they terrorized a Wisconsin neighborhood, police said.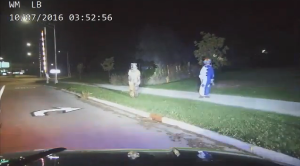 City of Menasha police officers responded in the early morning hours of Oct.  7 to 911 calls reporting people in clown masks chasing after vehicles. Dashcam video shows the officer confronting two men, ages 20 and 29, who were allegedly involved in the incident. Police said they also found the clowns' driver, a 26-year-old woman, in a vehicle parked nearby.
While no one was charged for the clown costumes, police did arrest the 29-year-old man and 26-year-old woman after discovering the couple had allegedly left their 4-year-old child home alone for several hours during the clown prank.
The child was placed by the Department of Human Services outside of the home. The parents have been referred to court on charges of child neglect. The woman was also held in the Winnebago County Jail on a probation hold.
The 20-year-old man was not charged in the incident.