This is an archived article and the information in the article may be outdated. Please look at the time stamp on the story to see when it was last updated.
Emergency crews in Colorado braved racing floodwaters early Thursday, rescuing a man from a partially submerged car, live on television.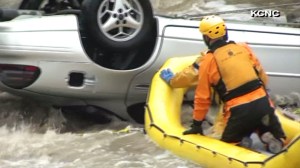 The scene in Lafayette, Colorado, unfolded in video from CNN affiliate KCNC after a night of torrential rain that left at least three people dead. Rock slides and flash flooding collapsed homes, put dams at risk and forced hundreds of people to evacuate.
In Larimer County, a dam break trapped three people, and weather was preventing rescue helicopters from launching to help them.
In nearby Boulder County, emergency officials were getting calls for help "by the dozen" Thursday morning, Boulder County spokesman Andrew Barth said. Crews couldn't reach some places because of debris, mud and steep terrain, he said.
Click here to read the full story on CNN.com.
[protected-iframe id="39df16c602af55a653211ced895edeec-41641936-41845117″ info="http://i.cdn.turner.com/cnn/.element/apps/cvp/3.0/swf/cnn_embed_2x_container.swf?site=cnn&profile=desktop&context=embedwww&videoId=us/2013/09/12/vo-colorado-car-rescue-in-creek.kcnc&contentId=us/2013/09/12/vo-colorado-car-rescue-in-creek.kcnc" width="416″ height="234″]