This is an archived article and the information in the article may be outdated. Please look at the time stamp on the story to see when it was last updated.
Cuba began a two-day period of official mourning Saturday, as investigators continued the grim work of combing through the wreckage of the crashed plane that took the lives of over 100 people.
There were 105 people and six crew members aboard Cubana de Aviación flight DMJ 0972 from Havana to Holguín, Cuba when the plane crashed as it was taking off at 12:08 p.m. on Friday.
Amateur video taken shortly after the crash showed a large fireball and thick plume of smoke rising from a field and wooded area bordering the airport.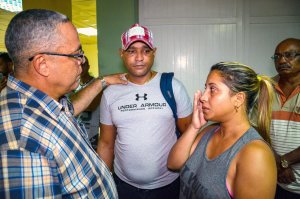 The Boeing 737-200 was split in several sections, with the plane's burned tail resting against a tree. Passenger belongings were scattered across a wide area.
Cuban state media reported that 100 of the passengers were Cuban and five were foreigners. The six crew members were Mexican citizens, according to Global Airline, which operated the flight for Cubana.
Among the 105 passengers were four children and an infant, Cuban state media reported.
Argentina's Foreign Ministry said two passengers were Argentine.
There were three survivors of the crash, Cuban state media reported.
The three — all women — were in critical condition and being treated in Havana, Cuban state media said.
One of the three survivors was identified by the state-run newspaper Juventud Rebelde as Emiley Sánchez de la O, 39, of the province of Holguín, Cuba. The woman was being treated for serious burns, a broken leg and traumatic brain injury. She had been placed on a ventilator, according to the newspaper.
Officials were still working on identifying a second woman, who they believed was between the ages of 18 and 25 years old. Juventud Rebelde reported she was suffering from traumatic brain injury, a fractured pelvis and a compound fracture to a leg and heavy blood loss
The third survivor has also not been identified, but according to Juventud Rebelde, was believed by officials to be around 30 years old. She suffered traumatic brain injury, broken legs and had to undergo surgery, the newspaper reported.
Cuban President Miguel Diaz-Canel toured the crash site on Friday and said Cuban officials would seek to determine what caused the crash.
"In addition to lament what occurred and show solidarity to the families," he said. "The events will be investigated and all the information will be shared."
Former Cuban President Raul Castro, recovering from recent hernia surgery, is aware of the crash and is staying informed about the situation, the government said.
Family members of the victims from the city of Holguín, Cuba — more than 700 km (about 435 miles) east of the Cuban capital — were being brought by bus to Havana to meet with Cuban officials late Friday, according to Cuban state media.
The Cuban government issued a proclamation that the island would observe a period of official mourning from 6 a.m. Saturday morning until midnight on Sunday, and that flags at public buildings and military installations would fly at half staff.
It was not immediately clear what caused the Boeing 737-200 to suddenly crash as it was taking off.
While the plane was flying a route for Cuba's largest national carrier Cubana, the nearly 40-year-old Boeing 737-200 was owned by the Mexican airline Aerolíneas Damoh and leased to Cubana de Aviacion, the Mexican Civil Aviation Authority said in a statement.
The arrangement known as a "wet lease" allows one carrier to provide an aircraft, crew and maintenance to another carrier.
In recent weeks, Cubana has canceled domestic flights and removed planes from service over safety concerns with its own aircraft.
Much of the crash area remained cordoned off Saturday, as Cuban officials continued their investigation into the accident.
Residents said the plane narrowly missed causing more injuries and fatalities on the ground.
"The plane was revving its engines to take off but it couldn't," Orestes Bentancour, who witnessed the crash, told CNN. "Luckily it didn't land on anyone's house."