This is an archived article and the information in the article may be outdated. Please look at the time stamp on the story to see when it was last updated.
Brothers fight all the time. It's rare that one of them rolls off the hood of a car, driven by his sibling, which then slams into a responding police cruiser.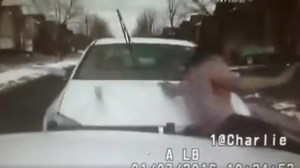 That turn of events occurred last week in Michigan — and was captured on dashcam video — after officers were dispatched to the scene of an alleged domestic violence incident, authorities said.
On Jan. 6, two adult brothers were said to be fighting in a home in the 7000 block of Tottenham Drive, according to a statement from the Charter Township of Shelby Police Department.
As the officers arrive at the location, the dashcam video shows, their vehicle is approached by a white car with a shirtless man hanging onto the hood, facing the windshield.
According to police, the driving officer activated the cruiser's overhead lights and stopped the police vehicle.
"You can see in the video what happens next," the news release said.
The footage shows a head-on collision involving the two vehicles, after which the man on the hood of the civilian car falls from its hood. The suspect behind the wheel exits the car and motions with both hands toward the front grille.
An officer then walks toward him and asks: "What are you doing? What are you doing, man? You hit my vehicle. I had my lights on."
The officer then turns to the driver's brother and asks: "Are you alright?"
Both men were later arrested, according to the police statement.
Savros Habib was charged with domestic violence, while his brother, Minas Habib, was charged with reckless driving, WILX reported.
No one was injured in the collision.