This is an archived article and the information in the article may be outdated. Please look at the time stamp on the story to see when it was last updated.
A new dating app that allows men to "cut to the chase" by wooing women with bribes is getting slammed for being sexist.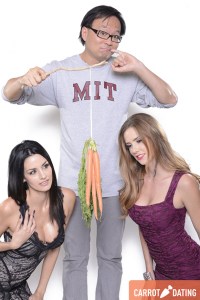 The online matchmaking site Carrot Dating lets users "dangle a carrot" like flowers, jewelry, a tank of gas or even plastic surgery to entice women to go on a first date.
The app was created by Massachusetts Institute of Technology (MIT) graduate Brandon Wade, who also founded SeekingArrangement.com, a popular sugar daddy dating website.
A press release for Carrot Dating says, "There's only one method of manipulation that has stood the test of time: bribery. It's a concept so simple that even animals understand — give a dog a bone, and it will obey. Give a woman a present, and she'll…"
But not everyone thinks wooing women with gifts is a good idea.
In a scathing review of the site, Business Insider reporter Christina Sterbenz compared Carrot Dating to prostitution and called it "blatantly sexist."
Sterbenz also offered men a bit of advice.
"Even if a woman bites, the resulting relationship is probably doomed. A bribe signals a last-ditch effort, a move of desperation because you can't elicit the desired results using conventional tactics."