This is an archived article and the information in the article may be outdated. Please look at the time stamp on the story to see when it was last updated.
To honor music legend David Bowie during the week of his death at age 69, an observatory in Belgium identified a series of seven stars in the sky that form a lightning bolt shape like that on one of his iconic album covers.
MIRA public observatory created the asterism at the request of a Dutch-language radio station in Brussels, Studio Brussel, the observatory said in a statement.
"It was not easy to identify the appropriate stars," Philippe Mollet of MIRA stated in a news release published by the Belgian branch of advertising agency DDB Jan 13. "Studio Brussels asked us to give Bowie a unique place in the galaxy. Referring to his various albums, we chose seven stars — Sigma Librae, Spica, Alpha Virginis, Zeta Centauri, SAA 204 132, and the Beta Sigma Octantis Trianguli Australis — in the vicinity of Mars at the exact time of his death. The constellation looks like an exact copy of the iconic Bowie lightning. "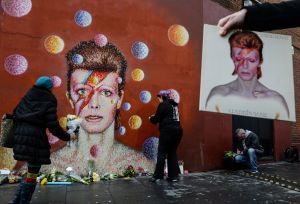 On the day Bowie died, Jan. 10, 2016, the stars formed the shape of the lightning bolt on the cover of his 1973 album "Aladdin Sane," MIRA stated.
Though the tribute has been described by the radio station and news media internationally as a "constellation," it's actually more accurately called an "asterism," the observatory said Monday, apparently seeking to clarify the project in response to a "small maelstrom" of journalistic inquiries.
Anyone can draw such asterisms to help stargazers identify celestial bodies, MIRA stated. A constellation is technically one of 88 areas of the sky as seen from Earth, though the word is used colloquially to an asterism like the Big Dipper.
"Those 'line figures' are not official, they are just an easy way to help people find their way in the sky," MIRA observatory said Monday. "And that was what we did: we – invented a 'Bowie-asterism' as a tribute to the artist. Nothing more, nothing less."
Bowie fans can visit Google Sky-powered stardustforbowie.be, where they can name a favorite song by the artist and leave a comment within a graphic of the lightning bolt.