This is an archived article and the information in the article may be outdated. Please look at the time stamp on the story to see when it was last updated.
Thousands of people were affected by severe weather that pounded parts of the Midwest and South last week.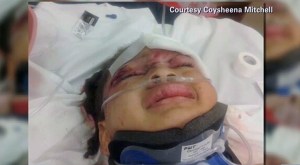 Coysheena Mitchell's daughter Ashtyn Rose, 4, was seriously injured by a tornado that ripped through Mississippi.
Mitchell's daughter is currently in the intensive care unit at the University of Mississippi Medical Center with severe head, chest and abdomen injuries.
Mitchell says her daughter has a long road to recovery, but she's still alive, thanks to the heroism of day care worker Ruth Bennett.
Mitchell said Bennett died clutching her toddler during the tornado. "She never left her side, she protected her," father Willie Mitchell said of Bennett.
Click here to read more on the story on HLN.
[facebook url="https://www.facebook.com/photo.php?fbid=10152389812659614&set=pcb.10152389818664614&type=1&theater"]