This is an archived article and the information in the article may be outdated. Please look at the time stamp on the story to see when it was last updated.
A newborn's pre-Halloween photo shoot in Louisiana included an unexpected surprise when an apparently curious deer strolled up behind the 1-month-old baby, and the resulting photographs have gone viral.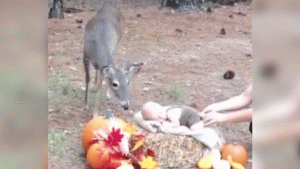 The pictures were taken in Sam Houston Jones State Park last month in Louisiana, according to KTLA sister station WJW.
Megan Rion of "Image That Photography by Megan Rion" was getting ready to photograph the baby, named Conner, when the deer wandered close to them.
"My assistant then took part of our set-up, an ear of corn, to coax her to look straight. Not only did she look my way, she came up calmly walking towards baby Conner and our set-up. I got a couple shots then we were done," Rion told the television station.
She posted the resulting photos on her Facebook page on Oct. 21, one of which was shared more than 22,000 times.
The baby's mother, Tiffany Rogers, also shot video of the deer "photobombing" the youngster.
Rion told WJW that Rogers was in awe over the peaceful creature, and the incredible photographs that resulted from the session. She added that the pictures were intended to be a surprise for the mother's husband.