This is an archived article and the information in the article may be outdated. Please look at the time stamp on the story to see when it was last updated.
Democratic lawmakers fervently renewed their calls for congressional approval of military force following President Donald Trump's Friday night announcement of US precision strikes against Syria.
"The President must come to Congress and secure an Authorization for Use of Military Force by proposing a comprehensive strategy with clear objectives that keep our military safe and avoid collateral damage to innocent civilians," House Minority Leader Nancy Pelosi, D-California, said in a statement Friday night.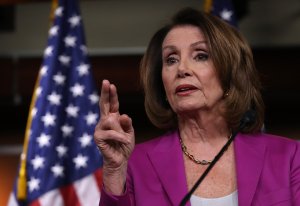 The US' joint military action with France and the UK came as a response to a chemical weapons attack against civilians by Syrian leader Bashar al-Assad.
As questions swirled this week around how Trump would respond to the attack, so did continued uncertainty about updates to Congress' Authorizations for Use of Military Force. The 1973 War Powers Act requires the President to receive congressional approval for any hostilities lasting longer than 60 days. Every administration since, however, has argued that portions of the law are unconstitutional.
Vice President Mike Pence spoke with Pelosi, as well as House Speaker Paul Ryan, R-Wisconsin, and Senate Majority Leader Mitch McConnell, R-Kentucky, to notify them of the President's announcement of Syria strikes in the half-hour before Trump's speech, according to the vice president's spokesman Jarrod Agen.
Several other members of Congress echoed Pelosi's statement calling out Trump for not going to Congress to seek approval.
Rep. Justin Amash, a Michigan Republican, said: "These offensive strikes against Syria are unconstitutional, illegal, and reckless. The next speaker of the House must reclaim congressional war powers as prescribed in Article I of the Constitution. @SpeakerRyan has completely abdicated one of his most important responsibilities."
Earlier this week, Ryan had downplayed the need for Trump to seek additional congressional approval, arguing that the President had the authority to approve an attack under the current Authorization for Use of Military Force, passed in 2002 and used as a basis for military action in the broader US fight against terrorism in the years since.
"Well, he has the authority under the existing AUMF," Ryan said Thursday, adding later, "With respect to the authorities, the existing AUMF … gives him the authority to do what he needs to do, what he may or may not do."
Rep. Eric Swalwell, a California Democrat, referred to Trump as "unhinged" in a tweet, while also directing him to go to Congress.
"We cannot allow #Syria's use of chemical weapons. We also cannot allow an unhinged (or hinged) President to unilaterally take America to war. We can stop both. Go to Congress, @realDonaldTrump. Tell us length of time, # of troops, and terrain covered. Americans deserve a voice," Swalwell said.
Other members of Congress have argued that military action against the Assad regime should not be covered by the 2002 authorization.
"The Administration should seek an authorization for the use of military force (AUMF) by Congress if it wants to continue to military actions against Syrian forces – the same way President Obama sought authorization in 2013 in a similar circumstance involving Syria," Sen. Bob Casey, D-Pennsylvania, tweeted.
Sen. Tim Kaine, a Virginia Democrat, went as far as to say Trump's actions were "illegal."
"Trump's decision to launch airstrikes against Syria without Congress's approval is illegal. We need to stop giving presidents a blank check to wage war. Today it's Syria, but what's going to stop him from bombing Iran or North Korea next?" Kaine said in a tweet.