This is an archived article and the information in the article may be outdated. Please look at the time stamp on the story to see when it was last updated.
It's a common dilemma for cannabis customers in Colorado: Where to light up?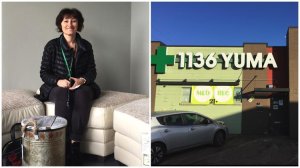 Because state law bans public consumption of any kind — no puffing a joint in the park or bringing your own pot-infused granola bar to a restaurant for dessert — locals are restricted to their homes. And tourists, who also are barred from using marijuana in rental cars or hotel rooms, face a buy-it-don't-use-it paradox.
But that soon could change. Denver officials last month accepted an application from a coffee shop that plans to allow social marijuana use — the first of its kind in the country.
Nationwide, cities in the eight states that have legalized pot are debating whether customers should be allowed to toke up outside of private residences or clubs.
Read the full story on LATimes.com.