This is an archived article and the information in the article may be outdated. Please look at the time stamp on the story to see when it was last updated.
A 78-year-old man was arrested and charged Thursday after videos surfaced showing a protester being sucker punched at a Donald Trump rally in North Carolina, according to multiple reports.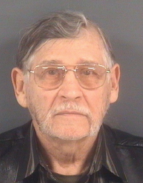 John McGraw, 78, is believed to be the man wearing a cowboy hat seen in multiple videos online sucker punching a black man being escorted out of a rally for the Republican presidential candidate on Wednesday.
Videos show a group of people, including at least two black men, being led out of the rally, located in Fayetteville, by men in sheriff's uniforms.
As the group walks up the stadium's staircase, people cheer and clap before the man donning a cowboy hat walks across the aisle and punches a man in the face.
The victim — later identified by the Washington Post as Rakeem Jones — was looking straight forward at the time, and did not appear to be prepared to take a blow to the side of his head.
"Boom, he caught me," Jones told the Post in a telephone interview. "After I get it, before I could even gain my thoughts, I'm on the ground getting escorted out. Now I'm waking up this morning looking at the news and seeing me getting hit again."
McGraw later said Jones was not acting "like an American" and it was unclear if he was a part of ISIS, otherwise known as the Islamic State group, Inside Edition reported.
"Yes, he deserved it. The next time we see him, we might have to kill him," McGraw told the TV show. "We don't know who he is. He might be with a terrorist organization."
McGraw was arrested on Thursday and charged with two criminal counts of assault and disorderly conduct, CNN reported.
His bail has been set at bail at $2,500, and he was scheduled to appear in court on April 6.
Video taken from the perspective of another man being led out of the rally does not capture the punch, but shows Jones on the ground afterward as at least four officials appear to be detaining him.
The videographer — Ronnie Rouse — told the Post his friend had been "slammed" to the ground by officers and handcuffed.

An internal investigation into whether the officers in the video, who did not detain or arrest McGraw on site, should have done so, was underway, Cumberland County Sheriff's Office Office Sgt. Sean Swain told CNN.
Jones said he was glad McGraw was charged, but frustrated he was not arrested immediately after the incident.
"You watched him hit me. I was in the sheriff's custody when I got hit," Jones said, adding attendees shouted racial slurs at him as he left the venue with other protesters.
The Sheriff's Office and Fayetteville Police Department told the Post they did not detain anyone at the rally, and Jones and his friends said no one was arrested. CNN later reported two protesters were arrested on suspicion of trespassing and resisting arrest in incidents not involving McGraw.
As soon as Trump began to speak at the rally, Rouse said someone in the crowd screamed, "You need to get the f— out of there."
The group — who Jones described as a "diverse," and included a white woman, a Muslim person, and gay man who attended the event as a "social experiment" — was then surrounded by officials.
Rouse told the Post they were from the Cumberland County Sheriff's Office.
"We're definitely anti-Trump," but had not said anything to provoke the outcry, Rouse told the Post.
Wednesday's incident was the latest in a string of violence occurring at Trump rallies that the presidential frontrunner has apparently welcomed.
Two incidents in Kentucky — one captured on video showing a black woman being repeatedly shoved and called "scum" — were being investigated, New York TV station WCBS reported.
And in Alabama, a Black Lives Matter protester was tackled, punched and kicked by rally attendees, CNN reported.
The protester maybe "should have been roughed up," Trump later said.
Trump has also urged supporters to "knock the crap out of" anybody "getting ready to throw a tomato."
And during an incident in Michigan, where the candidate was interrupted several times, he said, "Get him out. Try not to hurt him. If you do I'll defend you in court."
"It was really amazing to watch," Trump has said of fights at his rallies.
Regarding Wednesday's incident, Trump's campaign had no comment.
"That has nothing to do with us," campaign spokeswoman Hope Hicks told CNN.