This is an archived article and the information in the article may be outdated. Please look at the time stamp on the story to see when it was last updated.
Charleston, South Carolina is in mourning after a mass shooting in which Dylann Roof allegedly killed the Rev. Clementa Pinckney and eight churchgoers during a Bible study at the historically black Emanuel African Methodist Episcopal Church (also known as "Mother Emanuel") in Charleston, South Carolina.
Help support victims' families
Charleston's Mayor Joseph P. Riley, Jr. has set up "Mother Emanuel Hope" fund at Wells Fargo bank. The city has already pledged $5,000. The fund will help family members pay for funerals, counseling and other financial needs. Donations can be made by walking into any of Wells Fargo's 6,200 banking locations. An online portal to donate will be live soon, but for now you can make a check out to "Mother Emanuel Hope Fund" and send it to the address below:
Mother Emanuel Hope Fund
C/O City of Charleston
P.O. Box 304 Charleston, SC 29402.
Honoring the victims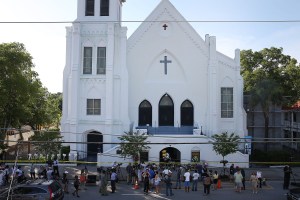 Emanuel AME, a pillar in the Charleston community, is the oldest AME church in the south. Religious leaders, of all faiths, are calling for prayers in honor of the victims.
"I pray that everyone affected by this horror will feel the comforting presence of our Lord surrounding them during this difficult time," said Bishop Robert E. Guglielmone of the Diocese of Charleston on Thursday.
Richard Norris, the Bishop of the affected district of the AME Church has called for prayer amongst believers across South Carolina.
"This is not only a tragedy for Emanuel and not only a tragedy for the AME church, but it is a tragedy for the nation," said John Richard Bryant, Bishop of the Fourth District of the AME Church.
The church pastor, the Rev. Clementa Pinckney, who is also a state senator, was killed while delivering a sermon. Those who knew him say he was a peacemaker.
Social media is a buzz with memories and announcements of vigils honoring the victims.
Myra Thompson, who was killed while teaching the Bible study class at Emanuel, was a woman who loved the Lord, according to those who knew her.
"Her every objective was to please him in all that she did. She was teaching Bible study when she was killed," said Bishop Alphonza Gadsden.
The Rev. Sharonda Singleton, a speech therapist and track coach at Goose Creek High School, is being remembered with a "Night of Prayer"
Cynthia Hurd, an employee of Charleston County Public Library for 31 years was also killed in the shooting. In a post made by the library on Facebook, a two day closure was announced in her memory.
To support the Emanuel African Methodist Episcopal Church directly, you can make a donation to their general fund.