This is an archived article and the information in the article may be outdated. Please look at the time stamp on the story to see when it was last updated.
Don't throw away those once sought-after eclipse glasses.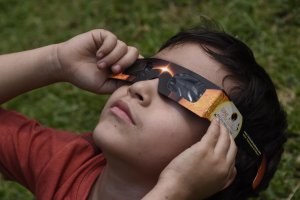 Thought by many to be worthless once the eclipsed ended Monday, Astronomers Without Borders wants you to hold on to them just a little longer.
The charitable organization will be announcing a program to collect the glasses so they can be sent to schools in South America and Asia for the 2019 eclipse, according to its website.
More information about the program, and the best place to send the glasses, will be announced soon, the organization posted on Facebook.
Those who can't wait to part with their eclipse glasses can send them to Explore Scientific at 1010 S. 48th Street in Springdale, Arkansas, 72762.