This is an archived article and the information in the article may be outdated. Please look at the time stamp on the story to see when it was last updated.
Downed power lines and falling tree limbs largely were responsible for setting off the deadly siege of fires that ripped through Northern California's wine country in October, Cal Fire investigators said Friday.
The findings of the report covered a dozen blazes in Napa, Sonoma, Lake, Humboldt, Butte and Mendocino counties that were responsible for a combined 12 deaths but did not address the origin of the Tubbs fire, which took 15 lives and wiped out entire neighborhoods in Santa Rosa. The overall death toll from the wine country firestorm was 44.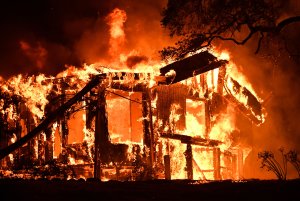 The fires broke out Oct. 8 and 9 as hot,dry winds raced through the region, ultimately setting off more than 170 separate blazes, burning at least 245,000 acres and destroying 8,400 homes and buildings, officials said.
Investigators alleged violations of state law in eight of the 12 fires. The violations were referred to the district attorneys in the respective counties for review.
Read the full story on LATimes.com.