This is an archived article and the information in the article may be outdated. Please look at the time stamp on the story to see when it was last updated.
Newly released video from SpaceX shows how the recent planned "soft landing" of a section of one of its rockets was more like a crash.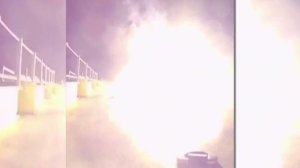 The Falcon 9 rocket was successfully launched one week ago from Cape Canaveral, Florida, but its booster failed to land on a floating platform over the Atlantic Ocean.
The rocket made it to the landing pad, but, as video released Friday showed, it ended up crashing into the platform instead.
"Close, but no cigar this time," SpaceX founder Elon Musk tweeted after the unsuccessful the test.
The experiment would have made history had it gone as planned. However, SpaceX had given the landing a 50-50 chance of being successful to begin with, according to CNN.
The idea behind the test was that SpaceX could reuse the landing piece if it could be controlled. The end result would make space exploration a lot cheaper, CNN reported.
The other section of the rocket docked with the International Space Station for a supply mission, according to the cable news channel.
CNN contributed to this report.