This is an archived article and the information in the article may be outdated. Please look at the time stamp on the story to see when it was last updated.
A driver in President Donald Trump's motorcade inadvertently brought a firearm near the President's beachfront estate on Monday, prompting questioning from the Secret Service and local law enforcement officials.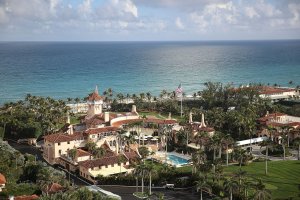 The driver had been tasked with piloting a van carrying reporters and photographers in the press pool. As is often the case, the White House procures local drivers for certain vehicles in the President's motorcade, while other cars — including Trump's — are driven by Secret Service or military personnel.
The incident came as the White House said the President is supportive of efforts to improve the federal background check system for gun purchases, less than a week after the Florida school shooting that killed 17 people. Trump's resort is less than 50 miles from where the massacre took place.
Reporters in the press pool said the handgun was discovered by Secret Service officials as they searched the individual's bag before the motorcade was scheduled to depart for Trump's golf course. The search took place outside club grounds in a nearby parking lot.
When the gun was discovered, the driver was pulled aside for questioning by law enforcement officials. He indicated he'd forgotten to leave the firearm in his personal vehicle before beginning his assignment as a motorcade driver.
White House officials drove the press vans instead, though not without incident: one of the vans got into a minor fender bender before departing Mar-a-Lago.