This is an archived article and the information in the article may be outdated. Please look at the time stamp on the story to see when it was last updated.
The 37-year-old actor who played the character Screech on "Saved by the Bell" was arrested Friday in Wisconsin on suspicion of possessing a switchblade in connection with a Christmas night bar fight.
Dustin Diamond was taken into custody in Port Washington, in Ozaukee County, north of Milwaukee.
He was held on suspicion of possession of a switchblade knife, recklessly endangering safety and carrying a concealed weapon, county inmate records showed.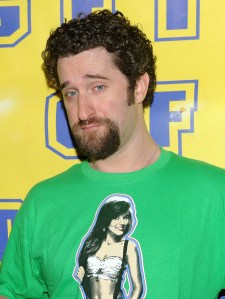 Diamond appeared in Ozaukee County court Friday afternoon, where his bail was set at $10,000, KTLA sister station WITI in Milwaukee reported. He appeared from jail by video alongside an attorney.
The Port Washington Police Department said it responded to the Grand Avenue Saloon about 11:15 p.m. on Christmas for a report of a stabbing.
An "altercation escalated to the point where a victim was stabbed by the 37-year-old suspect," a police news release stated.
The assailant, who was not identified by police, fled in a white SUV with his 27-year-old girlfriend, the release stated. Officers found the pair and recovered a knife in their vehicle.
Both were taken into custody; the woman was booked and released.
The victim was recovering at home after suffering wounds that were not life threatening, police said.
Diamond was charged with one count of second-degree recklessly endangering safety, carrying a concealed weapon, and disorderly conduct involving use of a dangerous weapon, video of the court proceedings showed.
If convicted on all counts, Diamond could be fined up to $36,000 and sentenced to nearly 11 years in prison, according to the judge. The investigation was continuing and it was not known if anyone was involved was intoxicated, a prosecutor said.
"Certainly, it's a crime of violence," the prosecutor said.
The victim did not realized he had been stabbed until after the altercation, the prosector stated, adding he could not find any previous arrests or convictions for Diamond.
Diamond, a California native, starred in the NBC high-school sitcom "Saved by the Bell" from 1989 to 1993, according to IMDb. He was also featured in "Saved by the Bell: The College Years" in 1993 and 1994.
Diamond released a sex tape, "Screeched," in 2006. On the show "Oprah: Where Are They Now?," Diamond said it was one of the things he was "most embarrassed" about.
He said he used a stunt double.
"It wasn't worth what the fallout was," he said. "People, to this day, they look down on me. … I didn't really do it."
He lives in Port Washington, the Milwaukee Journal Sentinel reported in 2013, stating that he had had financial struggles. He was sued for nonpayment of a $2,079 utility bill last year, the newspaper reported, and he had earlier faced a foreclosure order on his home.