This is an archived article and the information in the article may be outdated. Please look at the time stamp on the story to see when it was last updated.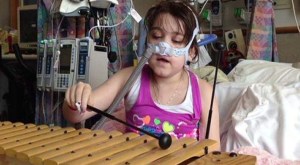 WASHINGTON (KTLA) — The father of a dying 10-year-old girl who desperately needs new lungs said the family was "very excited" after a judge ruled that the organ procurements rules should be waived in his daughter's case.
Sarah Murnaghan, who suffers from cystic fibrosis, has been waiting 18 months for new lungs.
She was at the top of the list for any pediatric lungs.  But none were available.
Her doctors said modified adult lungs could help save her, but under the current rules children under 12 were not prioritized for adult organs.
On Wednesday, the family asked a federal judge to issue a restraining order to block U.S. Health and Human Services Secretary Kathleen Sebelius from having the agency that oversees transplants apply a policy that keeps children younger than 12 from being prioritized for available adult lung transplants.
The judge granted the injunction and ordered Sebelius to direct the Organ Procurement and Transplantation Network to waive the rule in Sarah's case.
The injunction was valid for 10 days.
"We're very excited with the news that she will have the opportunity to be equally judged and have the opportunity to receive lungs," Fran Murnaghan said.
Tens of thousands of people have signed a petition on Change.org, and a congressman has called on the Obama administration to take quick action.