This is an archived article and the information in the article may be outdated. Please look at the time stamp on the story to see when it was last updated.
It is a historic night — stretching into overnight and likely well beyond sunrise — in the "City of Brotherly Love," as Philadelphia Eagles fans celebrate their first ever Super Bowl win.
Eagles fans came out into the streets en masse to celebrate the team's victory over the New England Patriots in the 2018 Super Bowl.
Aerial images from CNN's affiliate WPVI showed fans packing Broad Street leading up to Philadelphia City Hall. Fans crammed streets as far as the eyes could see.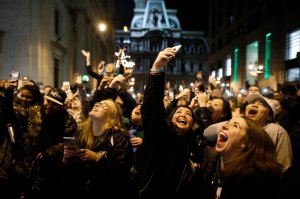 All of downtown Philly was packed with celebrants braving the cold weather. Adults, elderly fans, kids and even infants came out to share the win.
And, of course, not even hydraulic fluid was able to keep one brave booster from scaling a light pole.
Oh, look, Eagles fans really like to climb on things.
A police officer joined in on the celebrations.
While other fans showed it is never too early to stock up on some shiny new team swag.
Eagles backers packed sporting good stores looking to buy championship branded shirts and other apparel.
Meanwhile, on Twitter, fans collectively lost their minds. Eagles were a worldwide trend with a little less than 3 million tweets just before midnight.
The celebrations extended all the way to Penn State University, some 200 miles from Philly. Students flocked to campus to join in winning chants.
Back in the Philly, between the "E-A-G-L-E-S, Eagles" chants, some found the time to flip over a car.