This is an archived article and the information in the article may be outdated. Please look at the time stamp on the story to see when it was last updated.
Efraín Ríos Montt ex-dictator of Guatemala and notorious military general who was convicted of genocide, has died at 91, a family spokesman, Luis Rosales, confirmed Sunday.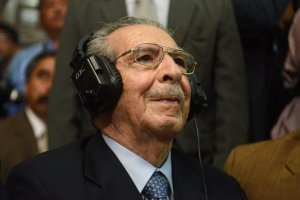 Rosales told CNN that a wake is being held for the former president at his home Sunday, and a funeral will be held on the same day at cemetery La Villa de Guadalupe in Guatemala City.
The former president died of a heart attack, and also had dementia and suffered from heart and lung problems, according to The New York Times.
Ríos Montt governed for 17 months between 1982 and 1983. He was found to be the mastermind behind the murder of 1,771 indigenous Ixil people, as well as the sexual abuse of more than 1,000 people perpetrated by the military during the Central American country's decades-long civil war.
He was convicted of those crimes in May 2013 and was sentenced to 80 years in prison, but the verdict was annulled 10 days later.
A Guatemalan judge ruled that Ríos Montt knew of the massacres and aerial bombardment of fleeing rebels, but the former president maintained his innocence during the trial.
A new trial in January 2015 was suspended hours before it began.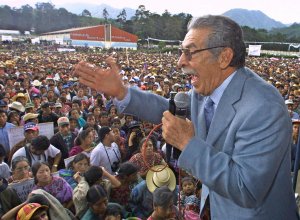 In August 2015, a Guatemalan court determined that the ex-dictator would stand trial for genocide and crimes against humanity, according to the Interior Ministry. But the court decided the it would be a special trial because the general, 89 at the time, had dementia.
Despite his role in the massacres, Ríos Montt was seen as an ally by then President Ronald Reagan, who said the general was getting a "bum rap on human rights," the Times reported.
The general was seen as a hero to many who believed his policy helped keep Guatemala from falling to communist threats in the region.
Ríos Montt is survived by his wife, a son and a daughter. Another son was killed in the war in 1982, according to the Times.