This is an archived article and the information in the article may be outdated. Please look at the time stamp on the story to see when it was last updated.
There may be an easier way to rob banks these days – pulling off a heist from the comfort of your home, for example, as hackers have increasingly done in recent years.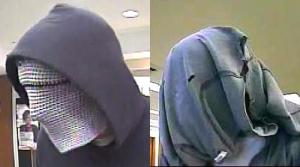 They break in electronically, pirate funds from one bank, wire them to another, and send in human mules to withdraw the loot. No need for a gun, a getaway car, or a footrace down the street, leaving a trail of flying cash.
But Anthony Leonard Hathaway was old school. He dressed up, donned a pair of gloves and personally went door to door for his money. Two-and-a-half-dozen bank doors to be exact.
When the 46-year-old unemployed Everett, Wash., man went off to prison the other day, he ended what officials think may be a Northwest record for bank-robbing frequency: 30 holdups in a 1-year, 6-day span with a tax-free take of $73,628. That's roughly two to three heists every month averaging around $2,450. At that rate, said Seattle police Det. Len Carver, a member of the FBI's Seattle Safe Streets Task Force, "he might top the list for sheer number of robberies in a one-year period." The FBI considers Carl Gugasian of Pennsylvania as the most prolific bank robber ever. Currently serving a 17-year-sentence, he robbed more than 50 banks, the agency said, making off with $2 million. But it took him 30 years.
Click here to read the full story on LATimes.com.