This is an archived article and the information in the article may be outdated. Please look at the time stamp on the story to see when it was last updated.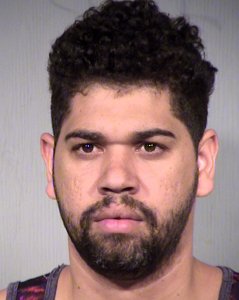 An employee at an immigrant detention facility in Phoenix was arrested on suspicion of molesting a 14-year-old girl being held there, according to KTVK in Phoenix.
Fernando Negrete, 32, has allegedly admitted to the abuse.
Officers responded to a child molestation call at the facility, near 26th and Campbell avenues, the afternoon of July 25, according to Phoenix Police Sgt. Vince Lewis.
A 16-year-old girl told police she "observed Negrete kissing and inappropriately touching" a 14-year-old female resident, according to the police report.
The victim told police that Negrete entered her bedroom and kissed her on the lips. The police report states that after he did this, "(the victim) pushed him away and got away (from Negrete)."
The witness described seeing Negrete kissing the victim "three or four times" and touch her inappropriately.
According to the police report, "in the surveillance video inside the residence, Fernando [Negrete] can be seen approaching the victim's bedroom several times throughout the night." But the doorway and bedroom are out of view of the camera.
On July 31, Negrete was interviewed by police and admitted kissing the victim and inappropriately touching her over her clothes.
The facility is operated by Southwest Key, a Texas-based organization contracted by the Department of Health and Human Services to run more than two dozen detention facilities for immigrant minors in Texas, Arizona and California.
The Arizona Republic uncovered police records showing at least two other reports of sexual abuse at Southwest Key facilities in the state. One of those cases led to a convicted, the newspaper said.
And last week, The Nation reported a 6-year-old girl separated from her parents at the border was sexually abused by another child being held at a Southwest Key center outside Phoenix.
Southwest Key spokesman Jeff Eller released this statement:
"When a child tells us of inappropriate behavior, we immediately call law enforcement and start an internal investigation as appropriate. That's what happened in this case. Southwest Key always works with law enforcement to bring the full force of the law to bear when it is warranted."
Negrete was being held on suspicion of molestation, aggravated assault and sexual abuse. He's due in court Aug. 7.