This is an archived article and the information in the article may be outdated. Please look at the time stamp on the story to see when it was last updated.
California is among 15 states involved in a voluntary recall by an Illinois pet food supplier after pentobarbital, a sedative used in euthanasia, was found in cans of dog food tested after one dog died and four others were sickened.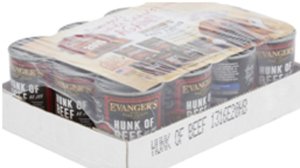 Evanger's Dog and Cat Food announced the recall of five lots of its Hunk of Beef dog food Friday after the drug was detected in one lot of Hunk of Beef Au Jus, according to the company's website and a U.S. Food and Drug Administration news release.
The 12-ounce cans of dog food were distributed to retail locations and sold online in California, Washington, Minnesota, Illinois, Indiana, Michigan, Wisconsin, Ohio, Pennsylvania, New York, Massachusetts, Maryland, South Carolina, Georgia, and Florida.
Products manufactured the week of June 6 through June 13, 2016, with lot numbers that start with 1816E03HB, 1816E04HB, 1816E06HB, 1816E07HB, and 1816E13HB, and have an expiration date of June 2020 are included in the voluntary recall issued Friday.
The five dogs became sick after eating dog food from lot number 1816E06HB13, Evanger's stated on their website.
One of the sickened dogs died, according to the company, which stated it had ended a 40-year relationship with the beef supplier.
"In our investigation, we spoke with many suppliers to learn how it could even be possible that an animal that had been euthanized could ever possibly end up in the animal food stream. What we learned was that pentobarbital is very highly controlled, and that, if an animal is euthanized, it is done so by a veterinarian.  Once this process has been done, there is absolutely no regulation that requires the certified Vet to place any kind of marker on the animal indicating that it has been euthanized and guaranteeing that product from euthanized animals cannot enter the food chain. This is a simple task, and goes a very long way to ensure safety in many areas," Evanger's stated on its website.
The company stated their investigation was ongoing and the company would be sharing all test results.
Consumers with questions were asked to contact the company at 847-537-0102 between 10 a.m. and 5 p.m. CT Monday through Friday.