This is an archived article and the information in the article may be outdated. Please look at the time stamp on the story to see when it was last updated.
A former USA Gymnastics and Michigan State University doctor was arrested Monday and accused of sexually assaulting female minors throughout his career.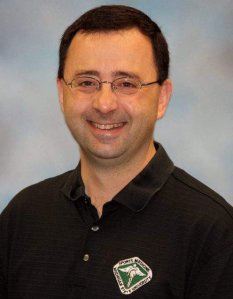 Former USA Gymnastics physician Dr. Larry Nassar was arrested and charged with three counts of criminal sexual assault of a person under 13 years old, according to court documents. A conviction could result in a life sentence.
He is scheduled to be arraigned Tuesday morning, according to 55th District Court Magistrate Mark Blumer's office.
Nassar's attorney, Matthew Newburg, met with him Monday afternoon at the county jail. Nassar declined to comment, Newburg told CNN.
"We did anticipate these charges being brought. We have a plan in place and we are prepared to defend him," Newburg said.
Michigan State University Police conducted the investigation in tandem with the State of Michigan Attorney General's Office. Michigan Attorney General Bill Schuette announced in early October he was reviewing sexual assault allegations against Nassar.
Schuette said his office was taking over the investigation from police at Michigan State University after a request from Chief Jim Dunlap. A news release from Schuette said Nassar is a former associate professor at the university.
"This complex case is believed to have crossed into multiple jurisdictions in Michigan, and possibly across state lines, putting the Department of Attorney General in the best position to effectively investigate and prosecute this case," the October 6 statement said.
Nassar, 53, was the team physician for the Michigan State University gymnastics and women's crew teams as well as an associate professor in the College of Osteopathic Medicine. Nassar served as the USA Gymnastics physician through four Olympics.
Court documents say the first incident of sexual assault occurred July 1, 1998.
USA Olympic Gymnastic coaches Bela and Marta Karolyi are also facing a pair of lawsuits alleging they "turned a blind eye to Nassar's sexual abuse of children."
One lawsuit says a gymnast, who is referred to as Jane LM Doe, was part of the U.S. national team between 2006 and 2011. The sexual abuse began when the woman was a minor, the suit alleges. It also accuses USA Gymnastics of ignoring and/or actively concealing the alleged abuse, a charge the organization denies.
A gymnast who won a bronze medal with the U.S. women's national team at the 2000 Sydney Olympics is also suing USA Gymnastics and the longtime team physician on allegations he sexually abused her for six years.
USA Gymnastics issued a statement Monday after Nassar's arrest.
"As we previously have made clear, when USA Gymnastics first learned of athlete concerns regarding Dr. Nassar, those concerns were reported to the FBI and Nassar was dismissed from further involvement with USA Gymnastics," the statement said. "We are unable to comment further due to the ongoing FBI investigation and pending litigation."
Schuette's office will hold a news conference with Michigan State University's Dunlap on Tuesday afternoon to discuss the case.