This is an archived article and the information in the article may be outdated. Please look at the time stamp on the story to see when it was last updated.
Joe McKnight, a former standout running back at the University of Southern California who went on to the play in the National Football League, was fatally shot in a possible road-rage incident in  Louisiana on Thursday.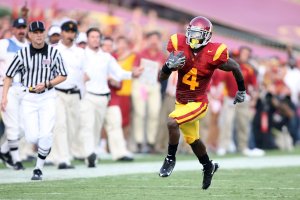 McKnight, 28, was shot to death after an argument in an intersection in Terrytown around 3 p.m., according to the Times-Picayune in New Orleans.
Jefferson Parish Sheriff Newell Normand said McKnight was discovered lying on the ground. Officers immediately performed CPR on him, but he ultimately succumbed to his injuries, KTLA sister station WGNO in New Orleans reported.
McKnight was standing outside of his vehicle when he was shot.
A female witness told the newspaper that she observed two men in the intersection; one was yelling at the other man, who was apparently trying say he was sorry for something.
According to the woman, the man who was yelling then opened fire, telling the man as he stood over him, "I told you don't you f— with me."
He then fired another shot, she told the Times-Picayune.
The shooter, identified by the sheriff as 54-year-old Ronald Gasser, stayed on the scene and gave his weapon to officers at the scene, Normand said. Gasser was taken into custody for questioning.
Normand said Gasser's vehicle and McKnight's vehicle were stopped side-by-side at the intersection.
"The only thing we know at this time … because everything else would be conjecture … is that Mr. Gasser did, in fact, shoot Mr. McKnight. We will be releasing additional details as we get through these interviews with these witnesses, as well as Mr. Gasser," he said.
Normand added that McKnight did not have a gun on him or outside of the vehicle, but he said deputies haven't searched McKnight's vehicle or Gasser's vehicle. They are waiting on a search warrant.
McKnight was initially identified as the victim of the shooting by family members at the scene.
"He didn't deserve it," McKnight's cousin, Roxanne Lundy, told the Times-Picayune. "He was a good guy, it was 100 percent unnecessary."
News of McKnight's death was quickly followed by reaction from those who played with or against him in high school, college, or professionally.
Deeply saddened by the loss of Joe McKnight. This is a terrible tragedy. Everyone loved Joe and we are going to really miss him.

— Pete Carroll (@PeteCarroll) December 2, 2016
Stunned and heartbroken to hear of the murder of my former teammate Joe McKnight.. My heart goes out to his loved ones, you will be missed! https://t.co/1gTF4RayNL

— Matt Barkley (@MattBarkley) December 1, 2016
Everybody in the world wanted to be @ReggieBush , us in New Orleans wanted to run the ball like Joe McKnight.

— Tyrann Mathieu (@Mathieu_Era) December 1, 2016
RIP Joe McKnight🙏🏿🙏🏿🙏🏿 Another senseless killing. Another hashtag smh

— Maurice Jones-Drew (@MJD) December 1, 2016
RIP my brother Joe McKnight this one hurts bad

— Reggie Bush (@ReggieBush) December 1, 2016
Originally from River Ridge, Louisiana, McKnight was a decorated and heavily recruited running back back coming out of high school who drew comparisons to USC star Reggie Bush.
McKnight played for USC for three years, amassing more than 2,200 rushing yards during his college career. He opted to forego his final year of eligibility for the NFL, and was drafted in 2010 by the New York Jets with their fourth round pick.
The running back briefly played for the Kansas City Chiefs and, more recently, had joined the Canadian Football League.