This is an archived article and the information in the article may be outdated. Please look at the time stamp on the story to see when it was last updated.
The young daughter of Timothy Warren, a Memphis policeman slain four years ago, was crestfallen when she received an invitation to a recent father-daughter dance at her school.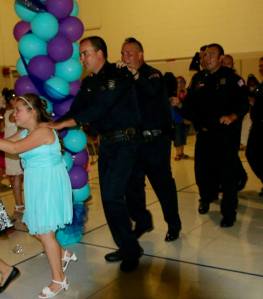 When several of Warren's fellow officers got word of the girl's sadness, they decided to step in and escort her to the event.
Warren was fatally shot while responding to a domestic incident at a Memphis hotel in July 2011. His daughter, Jewel, was 4 years old at the time, The Commercial Appeal reported.
In a Facebook post published Saturday, the Police Department described how half a dozen officers came to accompany the girl to the dance.
Her mother reached out to the wife of one officer and the widow of a Memphis firefighter and explained the heartbreaking circumstance. The two women began contacting people who could help rectify the dilemma.
The result was an outpouring of support from local businesses and two nonprofit groups, Our Fallen Heroes Foundation and West Tennessee Concerns of Police Survivors (C.O.P.S.), the post said. Donated items included tickets to the event, rose boutonnieres, a corsage and funds to purchase Jewel's dress.
Photos provided by Police Department show the girl and the six officers walking into the venue after she was driven there in a classic 1972 Cutlass Supreme, which was also provided by the C.O.P.S. organization.
In one image, a smiling Jewel leads her uniformed escorts in a conga line.
"We know we cannot replace Tim, but we can be there for his family when we are needed," one of the officers said. "It was truly an honor."