This is an archived article and the information in the article may be outdated. Please look at the time stamp on the story to see when it was last updated.
A five-year-old boy battling inoperable brain cancer has just one simple wish for his upcoming birthday: a mail box full of birthday cards with his name on it.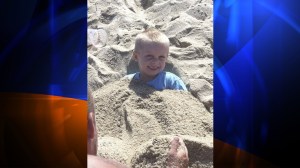 Danny Nickerson, who will turn 6 on July 25, was diagnosed last October with a "dangerous" and "aggressive"  tumor on his brain stem called Diffuse Intrinsic Pontine Glioma, according to a blog run by the boy's aunt.
Since then, young Danny had been undergoing radiation and chemotherapy to treat his illness, and he has had to drop out of kindergarten, according to Boston television station WCVB.
"I'm a fighter and really good wrestler…  and will fight this tumor until its gone," the boy said, according to the "Meet Daniel" page on the blog.
One thing Danny loves is getting mail, his mother said in a post on a Facebook page devoted to the boy called "Danny's Warriors," adding that her son is constantly checking the mail box for anything with his name on it,
So Carley Nickerson used the Facebook page to ask supporters to help brighten the boy's special day by sending him the very thing he loves all month long.
"Danny turns 6 in 24 days," Nickerson wrote on July 1. "How many birthday cards can we get before his birthday? And give him a month of tons of mail! He will love it!"
Since that post, the story has gone viral and Danny has received more than a thousand birthday cards, according to the Facebook page.
In a post dated July 22, Nickerson wrote, "We are so incredible blessed by all the love that everyone is showing us! We never thought one small article to the news paper was going to turn into a world wide story for our little hero! We truly cant believe all of the mail that we have received! Thank you everyone!"
It is not too late to send birthday cards to Danny, however, and those wishing to help fulfill the boy's birthday wish are being encouraged to mail them to the following address:
Danny Nickerson
P.O. Box 212
Foxboro, MA 02035