This is an archived article and the information in the article may be outdated. Please look at the time stamp on the story to see when it was last updated.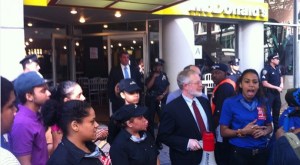 NEW YORK (KTLA) — Hundreds of fast food workers around the country walked off the job Tuesday to raise support for a hourly wage of $15.
The week-long work stoppage was organized by a coalition of labor, community and clergy groups called Fast Food Forward.
Along with higher wages, demonstrators were also seeking the right to form unions without retaliation, organizers said.
Currently, the median pay for the nearly 50,000 fast food workers in New York City was $9 an hour, or $18,500 a year, according to the New York Labor Department.
That was $4,500 lower than Census Bureau's poverty income threshold level of $23,000 for a family of four, according to fastfoodforward.org.