This is an archived article and the information in the article may be outdated. Please look at the time stamp on the story to see when it was last updated.
A North Kansas City, Missouri, man accused of photographing himself molesting a baby in his care was attacked by the child's father before his arrest late last week, according to multiple reports on Monday.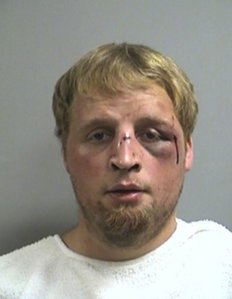 Jayson Newlun, 26, was taken into custody on Friday and booked on suspicion of first degree child molestation, and statutory sodomy or attempted statutory sodomy involving a child under 12 years old, according to Clay County inmate records.
He has been charged by Clayton County prosecutors with statutory sodomy, KTLA sister station WDAF in Kansas City reported.
Newlun was friends with the 1-year-old girl's parents and was staying with the family at their residence when the incident occurred, according to court documents obtained by Kansas City-area television stations KCTV and KMBC.
The documents stated that the parents left their child — who was asleep at the time — in Newlun's care so they could go to the store.
After the mother and father left, Newlun allegedly entered the girl's room, removed the baby's pants and fondled her in the genital area while he masturbated, according to the court documents.
But within 10 minutes, the parents returned home to retrieve something they had left behind. When they went inside, the baby's mother allegedly found Newlun taking a photo of the girl while kneeling between her legs and touching himself, the documents stated.
She quickly ran to get her husband, who went into the room and tackled Newlun as he screamed. The father then hit the suspect with a dresser drawer before punching him multiple times, according to the court documents.
He was stopped from further attacking Newlun by an intervening neighbor, KMBC reported.
The mother told investigators that before officers arrived, she told Newlun, "I hope you go down for this," according to WDAF. He replied, "I do too."
Newlun remains behind bars at the Clay County Detention Center, jail records showed.
His bond was set at $250,000.
Newlun faces at least a a decade in prison if convicted on the charges, WDAF reported.