This is an archived article and the information in the article may be outdated. Please look at the time stamp on the story to see when it was last updated.
Game 1 of the World Series had a little bit of everything. There was a rare inside-the-park home run. Viewers watching the broadcast on Fox lost the game when Fox's production trucks lost power. Fans were treated to extra innings and the second-longest Fall Classic game ever.
But there was also a tragic loss.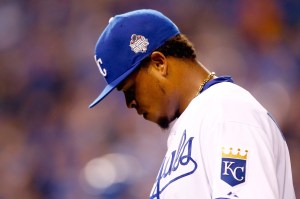 Daniel Volquez, the father of Kansas City Royals starting pitcher Edinson Volquez, died Tuesday, just hours before Edinson was scheduled to pitch Game 1 of the World Series against the New York Mets, a game the Royals won 5-4.
Daniel Volquez was 63 and died in the Dominican Republic from complications of a heart condition, MLB.com reported.
There are conflicting reports about when the pitcher learned of his father's death, and whether he knew before the game.
The Royals said the team found about Volquez's father's death before the game. Manager Ned Yost said he doesn't know when Volquez found out about his father's death and didn't talk to him about it while the game was going on.
"I don't have any idea when he found out," Yost said. "You know, we found out about it before the game and the wishes of the family was, you know, let Eddie pitch. So I was kind of keeping my eye, didn't want him to hear about it, I was keeping my eye on him. And he was fine. He didn't know, and I guess after the game is when he found out."
A spokesperson provided a statement to CNN saying that the Royals are under the impression that Volquez did not know about his father's passing prior to the game.
"We asked it not be reported until we were positive he was aware and when we knew he'd been told, we told Fox they could report it," the statement said.
Fox's Joe Buck later reported on the air that it was Volquez's wife's wish that her husband not be informed until after he had pitched in the game.
Yost said that Volquez, who gave up three runs on six hits in six innings, left before the game ended and has gone home to the Dominican Republic. It's unclear when he will return to the team.
He is the second Royals pitcher who has lost his father in a month. On September 26, Chris Young, who is scheduled to start Game 4, lost his father, Charles, to cancer. Additionally, Royals third baseman Mike Moustakas lost his mother, Connie, to cancer on August 9.
Yost said he would have turned to Young to start if Volquez hadn't pitched Tuesday night.
"I talked to Chris Young and told him that if Eddie finds out, you know how tough that can be," Yost said. "I remember Chris just went through it, Mous went through it with his mom. It's a very, very tough thing, especially right before you're about to go out and pitch. It would almost be impossible to do that in Game 1 of the World Series. I told Chris just to be ready in case something happens. And he would have to pick up the slack."
Royals left fielder Alex Gordon said that most of Volquez's teammates didn't know about the death.
"I found out in, I think it was the 14th inning, right before we won the game," Gordon said. "I was standing next to Ned and he told me, he said, 'Let's win this game for Volquez,' and explained what happened.
"I don't think he knew, I don't think most guys knew. In the locker room during the celebration we all talked about it. That's tough. But we're a family, and we rallied around him and picked him up and hopefully everything is OK."