This is an archived article and the information in the article may be outdated. Please look at the time stamp on the story to see when it was last updated.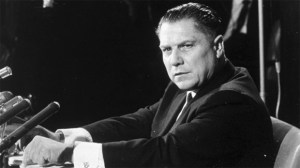 OAKLAND TOWNSHIP, Michigan — The FBI began digging in the waist-high grass of a Detroit-area field Monday in yet another search for the remains of former Teamsters boss Jimmy Hoffa, according to a law enforcement source with direct knowledge of the investigation.
The latest search was prompted by information from aging reputed mobster Tony Zerilli.
Agents were executing a search warrant for a field in Oakland Township, north of Detroit.
The paperwork filed under seal that accompanies the search warrant is described as "several pages long," according to the source, and it explains thy the FBI believes the search is justified.
"The information provided by Tony Zerilli is highly credible," the source said.
Click here to read the full story on CNN.com.