This is an archived article and the information in the article may be outdated. Please look at the time stamp on the story to see when it was last updated.
This past February was the warmest month in recorded history on Earth, surpassing the previous global record set back in December, the National Oceanic and Atmospheric Administration and NASA announced on Thursday.
Newly released data shows that average temperatures across land and sea were more than 2 degrees Fahrenheit above the 20th century average, and the highest on record for any February. Modern records have been kept since 1880.
The previous all-time monthly record was set in December; February's temperatures bested it by 0.16 degrees.
February 2016 also marked the tenth straight month that a monthly global temperature record was broken, according to a news release by NOAA's National Center for Environmental Information. The six highest monthly temperature departures have been recorded in the past six months.
"The long-term trend due to global warming is clear and now punctuated by the unusually warm data point for February 2016," NASA wrote on its website.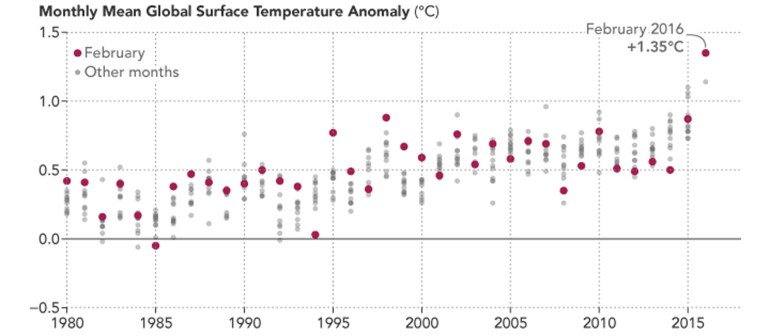 The previous record-high for February was set in 1998, also an El Niño year, according to NASA.
Most land surfaces across the planet experienced "unusually warm" temperatures for the short month, with the hottest occurring in North America, Asia and the Arctic.
The contiguous U.S. experienced its seventh warmest February at more than 5 degrees above average, with temperatures in the west and and extreme northeast experiencing the highest deviations, NASA reports.
Temperatures for the planet between the December-February period also represented the biggest departure from the average recorded for any three-month period, according to NOAA.
Last year was the warmest in 136 years of modern temperature records, NASA said in December.
One of the reasons for the rise in temperature was due to a powerful El Niño, one of the strongest ever recorded, according to NASA.
The weather event is characterized by a significant warming trend over the ocean in the tropical Pacific, which puts excess heat into the atmosphere and  raises global temperatures, CNN reported. As a result, El Niño years generally tend to be hotter than those not experiencing the event.
But El Niño isn't the only factor to blame for the rising heat; increased carbon dioxide and other human-made emissions have also aided Earth's temperature increase since the late 19th century, NASA reports.
The data perhaps did not come as a surprise to scientists and weather forecasters, who predicted after last year's record was announced that it could be topped in 2016.
JUST IN: February 2016 warmest on record for the globe per @NOAANCEIclimate https://t.co/Tc17yosgSG #StateOfClimate pic.twitter.com/gejm8VpKVX

— NOAA (@NOAA) March 17, 2016