This is an archived article and the information in the article may be outdated. Please look at the time stamp on the story to see when it was last updated.
The first shutdown of U.S. government in 17 years began Tuesday at 12:01 a.m. eastern time, after lawmakers in Congress failed to reach a deal on the federal budget.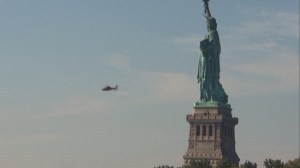 While the shutdown may affect some Americans more than others, some 800,000 federal employees are taking unpaid time off beginning Tuesday. Many federal offices are closed.
Shortly after the shutdown began, President Barack Obama issued a video statement to the Defense Department's civil employees, who are now on an indefinite furlough.
"You and your families deserve better than the dysfunction we're seeing in Congress," Obama said. "Your talents and dedication help keep our military the best in the world. That' why I'll keep working to get Congress to reopen our government and get to you back to work as soon as possible."
Before midnight Monday evening, the Republican-led House passed a resolution that would have funded the government while delaying the Affordable Care Act for a year. The amendment was rejected by the Democratic-led Senate.
"The House has voted to keep the government open," Speaker John Boehner (R-Ohio) said. "But we also want basic fairness for all Americans under Obamacare."
Before Tuesday, the most recent government shutdown lasted 21 days.
The current shutdown may cost the U.S. economy an estimated $1 billion per week.
The stalemate between Democratic and Republican lawmakers comes about two weeks before the Treasury reaches the federal debt ceiling, which is expected to lead to another political showdown.