This is an archived article and the information in the article may be outdated. Please look at the time stamp on the story to see when it was last updated.
Hitting a patch of ice and skidding off the road can cause any of us to have a slight panic attack.
Now imagine being behind the wheel of an 18-wheeler pulling not one, but two trailers, and jackknifing at a steep incline.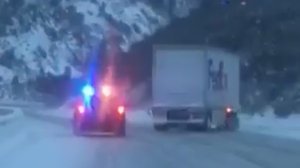 Would you be able to keep your cool?
A driver of a FedEx truck in California handled the situation like a boss and it was caught on camera.
The truck jackknifed at the high point of the snowy mountain pass on Interstate 80 near Floriston, close to the Nevada border, on Thursday morning.
"When the driver had lost it at the top of the hill, he had broke the air lines to his rear trailer," posted California Highway Patrol -Truckee on Facebook. "This caused the brakes on the rear trailer to lock up."
The big rig required a heavy duty tow truck that was about an hour away.
"The driver realized he could make it down despite his air lines being broken and the trailer brakes locked up."
CHP blocked the traffic and escorted the truck as it slid, or drifted, down the road to the next shoulder area. This location was a safer spot for the truck to wait for a tow.
Officers in this area frequently help stranded motorist due to the icy conditions of this road, but this was a task that even shocked them.
"I cannot believe that worked," can be heard over the radio once the truck comes to a stop.
The video posted on Facebook has more than 10 million views and counting.
"To be able to control a slide like that without having a jackknife (or worse) takes an extremely skilled driver. Hats off to FedEx for having a driver like this in their fleet," posted one person in the comments.
"This guy or gal deserves the driver with nerves of steel award for the century! They must either have been a hockey player or a surfer in a previous life! (Or maybe a ranch rodeo pickup rider)," posted another reader.
The incident took about 20 minutes and the highway was reopened.