This is an archived article and the information in the article may be outdated. Please look at the time stamp on the story to see when it was last updated.
New species of tiny frogs that can fit comfortably on a coin have been discovered in India.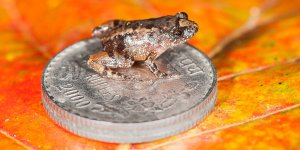 Seven new species of frog — some of the smallest in the world — were found after five years of searching in the Western Ghats, a mountain range in Southwestern India known to be a biodiversity hotspot.
They might have just been discovered but their future is already in doubt, according to Professor SD Biju from the University of Delhi, who led the study.
"Out of the seven new species, five are facing considerable anthropogenic threats and require immediate conservation prioritization," he said in a statement.
They sound like insects
Belonging to the night frog genus, four of the new species are just 12.2 to 15.4 millimeters long.
They bring the number of species in the genus to 35, and reveal greater diversity than previously thought. Some night frogs can be up to 10 times bigger than their minute cousins.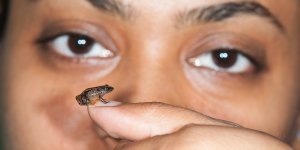 While their larger cousins prefer rapid streams, the new species were found under marsh vegetation and damp forest leaf litter. Unlike their more aquatic peers, they do not have webbed feet.
"The miniature species are locally abundant and fairly common but they have probably been overlooked because of their extremely small size, secretive habitats and insect-like calls," said Sonali Garg, who undertook the study as part of her PHD research.
80 million years of evolution
Night frogs are native to the Western Ghats region and belong to an ancient frog group that dates back 70 to 80 million years.
SD Biju from University of Delhi said that the discovery of the new species revealed insights into their evolution and preferred habitats.
"These smaller species occupy smaller niches, call like insects and lay fewer eggs [than their larger peers]" he told CNN.
Among the evolutionary advantages of miniaturization in animals were opportunities to occupy new habitats and exploit alternate food sources, he said.
Over 1,581 new species of amphibians have been discovered worldwide in the last decade, with the highest number coming from the Brazilian Atlantic Forest, followed by the Western Ghats region.
But humanity's new found appreciation for the diversity of these species might be short lived, with many facing extinction.
"Over 32%, that is one-third of the Western Ghats frogs, are already threatened with extinction," he said.