This is an archived article and the information in the article may be outdated. Please look at the time stamp on the story to see when it was last updated.
The man suspected of stabbing two women to death in the Finnish town of Turku Friday has been named as an 18-year-old Moroccan, Abderrahman Mechkah.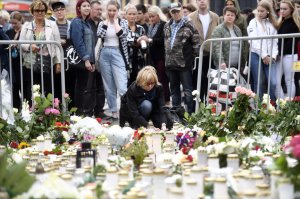 Finland's state broadcaster YLE reported Mechkah's name, citing court documents, and said he would appear in court via video link Tuesday.
Mechkah, an asylum seeker from Morocco who was living in a refugee center, is currently in hospital recovering after being shot by police.
Finland's National Bureau of Investigation said Mechkah was being investigated on suspicion of two counts of murder and eight counts of attempted murder with terrorist intent.
Four other Moroccan citizens are suspected of involvement, but deny the accusations, the NBI statement said.
An international warrant has been issued for a fifth man who is wanted for questioning, YLE reported.
As of Sunday, four patients were still at Turku University Hospital. Three were in intensive care, including the main suspect. Doctors say all are in stable condition, the Finnish broadcaster said.
It was the first time there had been a jihadi-style attack in Finland.
"This weekend, terror came to Finland," President Sauli Niinistö told journalists at a press conference at his official residence in Helsinki's Meilahti district, YLE said.
"The Finnish police settled the matter quickly. Their work, and that of the rescue workers, has played its part in returning the sense of security. We can have confidence in the authorities' operations," Niinistö is reported as saying.