This is an archived article and the information in the article may be outdated. Please look at the time stamp on the story to see when it was last updated.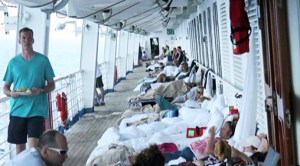 MOBILE, ALABAMA – Now that the nightmare cruise aboard the crippled Carnival ship 'Triumph is over — and the ship has been towed into port in Alabama — the first lawsuit has been filed against Carnival Corporation.
The ship was disabled and set adrift without power after an engine fire last Sunday (Feb. 10).  It took five days for the ship to make shore after it had lost power.
Over the five-day period, the thousands of passengers on board suffered dismal conditions that many equated with being on board a 'floating toilet.'
Now the investigation into what went wrong has begun.  Bahamian maritime officials are the lead investigators since the ship is registered in Nassau.
Specifically, investigators are looking into the cause of the fire, crew response, engine maintenance, and safety procedures on board the ship.
Carnival has announced the release of refunds as well as credit for passengers to use on future cruises.
Despite those gestures, many expect more lawsuits to be filed against the Carnival line by passengers who endured unpleasant and unsanitary conditions during the ship's at-sea emergency.