This is an archived article and the information in the article may be outdated. Please look at the time stamp on the story to see when it was last updated.
One minute passengers were settling into their seats for the 11-hour flight from Tokyo, Japan, to Los Angeles.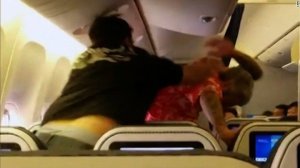 The next they were scrambling out of the way as a male passenger became irate and began throwing punches at another man seated in the row behind him.
"We were looking for a motive. Everyone was trying to figure out if he was intoxicated, if he was frustrated or what was going on," passenger Corey Hour, who videotaped the confrontation, told KTLA. "But literally there were no red flags; it just happened."
When apprehended by flight staff, the man allegedly began lashing out at everyone around him.
"The gentleman in the red was seeming to attack anybody he could intimidate, anybody he could approach in arms reach," Hour said.
The "air rage" episode occurred Monday night on All Nippon Airways (ANA) Flight NH6 from suburban Tokyo's Narita International Airport to LAX.
Hour, from Phoenix, Arizona, used his phone to capture the moment a man in a red Hawaiian shirt began punching another passenger on board the plane before it departed.
"The airline staff did what they could to defuse the situation, and they reacted appropriately," Hour told CNN.
"There were children everywhere, you can hear in the video them crying."
Hour said that after the initial encounter, the man in the red shirt "walked away but then came back and started hitting the guy again. That's when I stopped filming and confronted him."
"I was the one who stepped in. He backed down, I squared up with him and he wouldn't confront me," Hour said.
Hour told CNN the man was then escorted off the aircraft by airline personnel.
Hour praised the flight crew's response on Twitter: "For the record ANA staff and passengers handled the situation with grace and respect. They did the best they could to diffuse the situation."
The flight was delayed more than 90 minutes as a result of the incident, Hour said.
In a statement ANA apologized to passengers for the flight delay and said the passenger was detained and did not fly.
A Narita airport police official told CNN a "drunk" passenger was arrested at the airport Monday but did not confirm the arrest was related to this incident.