This is an archived article and the information in the article may be outdated. Please look at the time stamp on the story to see when it was last updated.
An Uber driver in central Florida was arrested on Thursday after police say he was spotted driving on Interstate 75 a $250,000 Ferrari that was stolen in Palm Beach County, according to WPTV in West Palm Beach.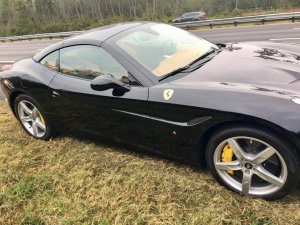 Hilburn Jay Brendon Hunkins, 26, of Kissimmee, was pulled over around 8:30 a.m. after an officer noticed a black 2017 Ferrari California with stolen plates driving slowly beside a "high-end" red Corvette, the police report states.
Hunkins told the officer that the Ferrari he was driving belonged to a friend. According to the arrest report, Hunkins was not able to provide the friend's name or phone number.
The officer later discovered that the vehicle was reported stolen out of Palm Beach County.
Hunkins was subsequently arrested on suspicion of grand theft of property valued at $100,000 or more and booked into the Alachua County Jail.
The Gainesville Police Department poked fun at the arrest with a satirical Facebook post offering advice to would-be car thieves.
"Don't steal stuff. It's just not nice," the post reads in part. "Certainly don't steal a $250,000 2017 Ferrari California…. Especially when the window sticker is still on it."