This is an archived article and the information in the article may be outdated. Please look at the time stamp on the story to see when it was last updated.
A case of road-rage "karma" has gone viral after a Florida woman posted video of an interaction she had with another motorist who was tailgating her while she drove in the left lane this week.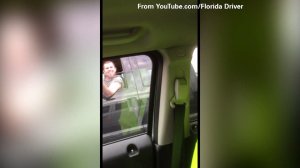 Seconds after flipping the driver the bird on U.S. Highway 41 in the Tampa, Fla., area, a black pickup truck passed on the right then abruptly spun out, crossed opposing lanes and crashed into a grassy median, the female driver's YouTube video shows.
"That's what you get! All on video, buddy," she cries, laughing.
She wished to remain anonymous, but posted the 1 minute, 55 second video online, and it had nearly 5 million hits on Friday afternoon, two days after it was made public. The video was partly titled "Road Rage / Instant Karma," along with a word some consider a derogatory term for white rural Southerners.
"I couldn't move over because there were trucks in the right lane, and I sure as heck wasn't going to speed on a rainy day with the roads being as slick as they were. I was turning left in about a half-mile when this happened," the driver wrote in the caption.
Jeffrey White, the pickup truck's driver, initially fled the scene, according to Florida Highway Patrol troopers, the Tampa Tribune reported.
Using the female driver's cellphone video, White was tracked down at his home and arrested on suspicion of leaving the scene of a traffic crash, careless driving and failing to wear his seatbelt, the newspaper reported.
A 33-year-old man by White's name was released from the Hillsborough County Jail on Thursday, online inmate records showed.
"This moron could have easily killed somebody with his moronic behavior, and my laughing at the end would have been replaced with tears," the YouTube description read. "Needless to say … I've never seen Karma come back so fast."