This is an archived article and the information in the article may be outdated. Please look at the time stamp on the story to see when it was last updated.
Two Florida nuclear power plants in the path of Hurricane Irma are shutting down to brace for the Category 5 storm's devastating wind and rain.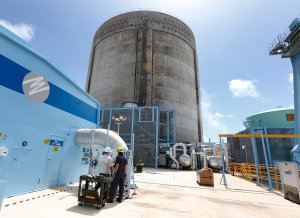 Florida Power & Light announced on Thursday it will shut down the Turkey Point and St. Lucie nuclear plants ahead of Irma's expected arrival this weekend. The two facilities are Florida's only operating nuclear power plants. Both are on Florida's Atlantic Coast, which is bracing to get hit very hard by Irma's ferocious winds.
"This is an extremely dangerous storm," Rob Gould, chief communications officer at Florida Power & Light, told reporters.
Gould said the nuclear sites are among the strongest in the United States and are designed to withstand heavy wind and storm surge. Turkey Point's nuclear reactors are enclosed in six feet of steel-reinforced concrete and sit 20 feet above sea level, the Miami Herald reported. Nuclear plants also have significant redundancies that serve as back-ups to back-ups.
Turkey Point, located just south of Miami in Homestead, survived a direct hit from Hurricane Andrew in 1992. However, the facility did suffer $90 million in damage from that Category 5 storm, according to press reports.
"This storm has the potential to eclipse Hurricane Andrew," Gould said.
Related 'Panic buying' sparks gas shortages in Florida
Florida Power & Light declined to give specific timing on when the nuclear plants will be shut.
The U.S. Nuclear Regulatory Commission said it expects Turkey Point to be shut down Friday evening and St. Lucie to go offline about 12 hours later, depending on the storm track.
The country has 61 operating nuclear power plants in 30 states, according to the Energy Information Administration.
Florida is also grappling with gasoline shortages caused by panic-buying from motorists in the storm's path and lingering supply disruptions from Hurricane Harvey. At least 40% of gas stations in the Miami-Fort Lauderdale region are without fuel, according to estimates from crowdsourcing platform GasBuddy.