This is an archived article and the information in the article may be outdated. Please look at the time stamp on the story to see when it was last updated.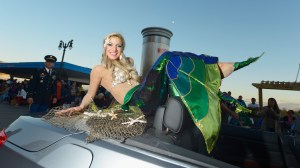 A former Miss New Jersey who was critically injured in a car crash one week ago died early Monday morning in a hospital operating room.
Cara McCollum, 24, was driving a 2014 Ford Mustang on Route 55 in Pittsgrove Township on Feb. 15 when the convertible slid off an icy road and hit several trees, according to news website NJ.com.
McCollum was not wearing a seatbelt at the time, the report stated.
She died "peacefully" about 4:31 a.m. on Monday surrounded by her family, according to Keith Jones, the woman's boyfriend.
"Thank you all for this tremendous outpouring of love and support for my sweet, beautiful everything, Cara. We can't begin to tell you how much your prayers have meant to us in this incredibly difficult time," Jones wrote in a Facebook post.
She had been hospitalized at Level 1 trauma center in the state since the crash, according to "Prayers for Cara," a Facebook group that provided periodic updates on her condition.
McCollum's organs would be donated, Jones said in the post.
"At this very moment, she is saving lives," he wrote, adding, "We've prayed constantly for a miracle, and we believe God has answered our prayers. Although it's not the miracle that we first envisioned, it's a miracle nonetheless." 
McCollum won the 2013 Miss New Jersey pageant, then competed in the 2014 Miss America contest.
She was an Arkansas native who attended Princeton University, where she graduated in 2015. After her term as Miss New Jersey concluded, McCollum went on to become an anchor at SNJ Today, a news program based in southern New Jersey, according to her professional Facebook page.