This is an archived article and the information in the article may be outdated. Please look at the time stamp on the story to see when it was last updated.
The young Iraq war veteran suspected of fatally shooting five people and wounding eight others at Fort Lauderdale's international airport Friday had become mentally agitated in recent weeks, family members said, despite his happiness over the birth of a son less than four months ago.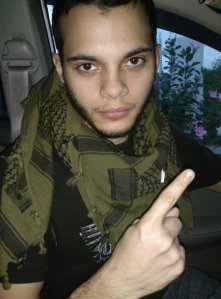 Esteban Santiago, 26, was in custody following the attack, being questioned by local and federal law enforcement. Eyewitnesses described an eerily calm assailant who fired bursts from a semiautomatic handgun at fellow airline passengers as they clustered around a baggage carousel — and then just as calmly tossed his weapon away and positioned himself spread-eagle on the ground, waiting for police to arrest him.
The country's largest mass shooting of the new year threw the busy Florida airport into chaos, with thousands of travelers and airport staff fleeing onto walkways and the tarmac as emergency responders and law enforcement officers, many heavily armed and in tactical gear, rushed to the scene.
In addition to the eight people hurt in the shooting, 37 others were injured in the chaotic aftermath, authorities said.
Click here to read the full story at LATimes.com.