This is an archived article and the information in the article may be outdated. Please look at the time stamp on the story to see when it was last updated.
Doug Tompkins, the co-founder of The North Face and Esprit clothing lines, died Tuesday after a kayaking incident in Patagonia, Chile. He was 72.
Tompkins appeared to have been with several other mountaineering legends from the U.S. outdoor clothing industry when he was fatally injured, names listed a statement from the Chilean Navy show.
Six people were initially rescued, according to the statement: Yvon Chouinar; Rick Ridgeway;
Jim Ellison; Weston Boyles; Douglas Tompkins; and Lorenzo Alvarez.
"Yvon Chouinar" appears to refer to Yvon Chouinard, a rock climbing legend and the founder of the Ventura-based clothing line Patagonia. Ridgeway, a famed mountaineer, is an executive at Patagonia. "Jim Ellison" may refer to Jib Ellison, founder of a San Francisco-based consulting firm called Blu Skye. The trio have worked together in the past.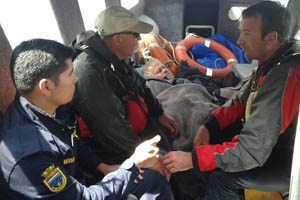 The identity of those who were rescued could not immediately be verified by KTLA, but Outside magazine cited a Chilean news outlet in stating those referenced above were on the trip.
Alvarez of Mexico was identified by Outside as the owner of Bio Bio Expeditions, and American Boyles was described as the founder of Rios to Rivers, "a cultural and environmental organization."
The Conservation Land Trust, which Tompkins created, confirmed his death.
"We can confirm he has passed away and it happened today," trust spokeswoman Alison Kelman told CNNMoney.
The cause of death was not clear, but Kelman said he was taken to a hospital in Coyhaique where he died.
Tompkins had severe hypothermia after being in water under 40 degrees Fahrenheit, the New York Times reported. He was kayaking in Lago General Carrera, in Patagonia, when he went into the water, according to a statement from Tompkins Conservation.
The Maritime Authority rescued three kayakers, and a private helicopter rescued another three, according to the statement from the Chilean Navy, which was in Spanish.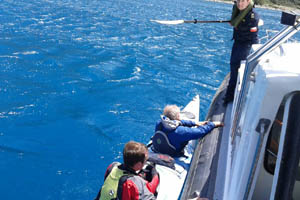 The kayakers were adrift in the "Avellano sector" when they were rescued.
"The party indicated they overturned due to weather conditions in the area, including strong winds and wave conditions at the time of the accident," read the statement in Spanish.
Tompkins, an avid adventurer with multiple first ascents, founded The North Face in 1964 and a few years later created Esprit along with his first wife Susie. Esprit grew to more than $1 billion in sales, according to his conservation web site.
He sold his share of Esprit in the late 1980s and began his career in conservation by creating the Foundation for Deep Ecology and moving to Chile.
He is survived by his wife Kris, who spent 20 years as the CEO of Patagonia.
She retired in 1993, married Tompkins and moved to Chile, where they both concentrated on environmental projects.
Their work helped create five new national parks in South America, according to Tompkins Conservation. They acquired some 2.2 million acres of conservation land, including the world's largest private nature preserve.